The ARPA Engagement
Package by Polco
American Rescue Plan Act Success - Tools to help Local Government Leaders
Create Your American Rescue Plan Act (ARPA) Recovery Roadmap
Measure - Recover - Document
ARPA is here to fund local government community recovery efforts. Now begins a critical time to measure, rebuild, and demonstrate progress.
Federal guidelines state, "Treasury urges State, territorial, Tribal, and local governments to engage their constituents and communities in developing plans to use these payments, given the scale of funding and its potential to catalyze broader economic recovery and rebuilding."
Successful recoveries require that local leaders understand the impacts and needs of residents and businesses. So Polco's new ARPA Engagement Package helps you hear from your community and uncover the insights you need to best leverage federal funds.
Survey your residents and businesses every 6 months to see trends, compare against national benchmarks, and identify areas of need in your community.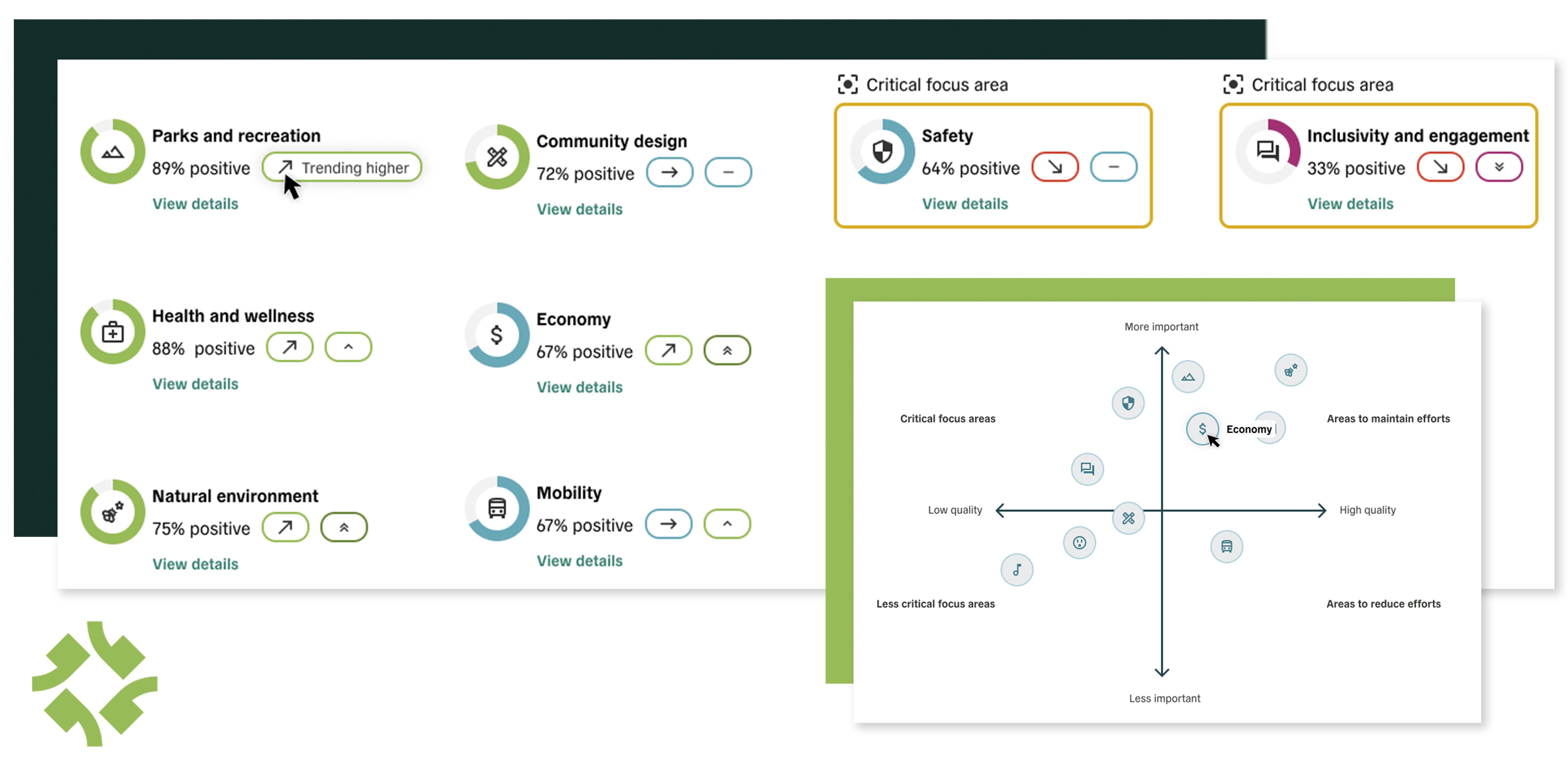 Maximize Local Government Recovery Success
The ARPA Engagement Package by Polco connects leaders with residents, local businesses, and each other. You get citable data from high-quality surveys, online dashboards of results, a national index to track and benchmark performance - all on the Polco engagement platform. You'll build a strong foundation for continued engagement and informed decision-making, even after the American Rescue Plan Act.
Designed around Treasury guidelines, this comprehensive package helps you assess community needs, align funds with economic priorities, address equity and inclusion and document progress.
The ARPA Engagement Package is available with a Polco Premium or Performance Subscription Plan.
*Subscription for this engagement package is an ARPA-eligible expense.
International City/County Management Association (ICMA) members, National League of Cities (NLC) members, small communities, and current Polco clients qualify for discounts (list price for the package is $15,500 per year). Fill out the form to learn more!
Recover and Move Ahead
Local Governments can unlock the full capabilities of Polco and use the ARPA Engagement Package to:
Assess community needs
Prioritize spending
Address equity and inclusion in recovery
Track progress on strategic goals
Produce documentation
Access the National ARPA Recovery Index
Connect, learn and share research with other local governments
Build a foundation for continued community engagement
What's Included in the Package:
ARPA Engagement Survey
Designed by experts, this standardized, benchmarking survey of residents and business owners is ready for you to publish right away. Get public input in real-time and compare your results with other local governments. You'll contribute to the National ARPA Recovery Index and access the research. You'll also get free template surveys, as we develop them, to dig deeper into key topics that the national index reveals.
Easy Online Sharing
Everyone is invited to give you feedback! Once you publish on Polco, you'll immediately get a link to the survey. Post this link on social media, emails, newsletters, and the official website. Share it with community organizations and local media. Polco will also provide expert guidance and templates to help you get the word out to all your stakeholders.
Building a Following
Especially with ARPA-related issues, it's important to know that responses come from real residents. When respondents take the survey, they also register to follow you on Polco. They receive email notifications whenever you publish a new survey or publicize results. It also allows us to verify them based on voter records while always maintaining individual privacy and cybersecurity. In no time, you'll have a panel of engaged residents ready to provide input now and next time!
Accurate Representation
You'll get expert help with best-in-class multi-modal outreach methods so results accurately reflect your whole community. This includes mailed invitations to a random sample of residents and businesses. This along with your outreach ensures every resident can have a voice.
Online Reporting
The ARPA Engagement Survey comes with a data dashboard that includes key findings, benchmark comparisons, and trends over time. You'll also get full survey results with demographic weighting and crosstabulations. To fulfill ARPA documentation requirements, you'll receive results in PDF form.
Access to an Exclusive Local Government Network
When you enroll, you join a network of other local government leaders embarking on the same journey as you. You'll get exclusive access to the interactive Polco Connect forum where you can share resources, discuss solutions, and learn from our shared research.
The Complete Set of Polco Features
Poll residents on any important topic and see the results in real-time. You'll get easily understood dashboard reports with maps. You can create your own surveys, or choose from the extensive Polco Library, full of ready-to-publish content. You can even get immediate, organized input during live events and public meetings with

Polco Live

!

Learn More
Through ARPA and Beyond
The ARPA Engagement Package is more than a one-off tool. This comprehensive program will carry local governments through the entire four years of the American Rescue Plan Act. And it doesn't stop there. We've designed the package to continue contributing toward long-term community success!