Pricing That Fits Your Needs and Budget
Learn how government leaders use Polco's online community engagement and analytics platform for insights to make informed decisions with confidence.
Someone would come to a council meeting and would be the loudest person in the room. We would make a decision based on that. We wanted to make more data-driven decisions and hear more from our community.
Andy Conyers
Asst. City Manager of Administration, Edmond, Okla.
We asked ourselves, do we have the courage to step forward and see how we're doing? And then do we have the courage to take on this information and pique the interest of the community to do something different than we've done in the past?
Joel Young
City Clerk, Chatfield, Minn.
This is very useful. I can't tell you how many times we reflect on the community survey results to help guide our policy decisions over the next four years.
Ashley Stolzmann
Mayor, Louisville, Colo.
A lot of communities, especially small ones, have ever-growing demands and never-growing staff. It's hard to prioritize. The data helps us to evaluate those things, set priorities, and make sure we use our limited resources to get to where we need to go.
Kate Rusch
Public Information Officer, Estes Park, Colo.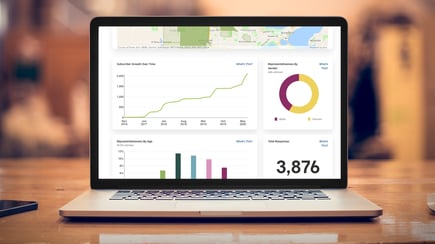 Take the first step
Speak with a member of the Polco team about your community's needs, make a customized plan, and begin to better engage your community.