Engage


Get Residents Involved in Local Government Decision-making
Gather community member input on any topic at any time with customizable or templated surveys, polls, live events, and simulations.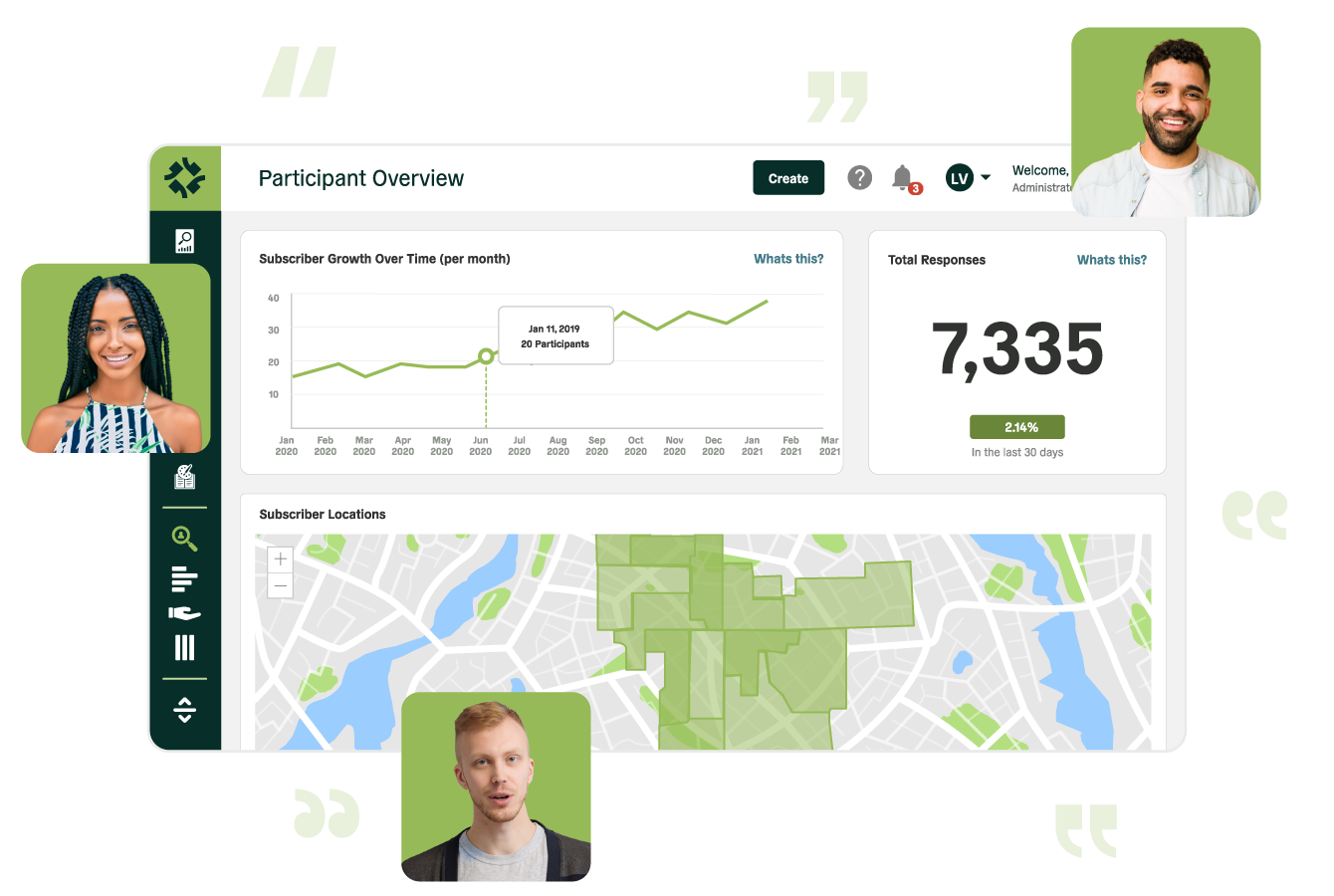 Government leaders need resident feedback but traditional engagement methods fall short.
Social media amplifies extreme voices
An unrepresentative minority shows up to city council meetings
You can't differentiate who's a resident and who lives outside your community online
It's difficult to know how to reach under-heard populations
You want engagement that is more interactive and participatory
You need community input provided by valid methods you can trust
What community engagement solutions work best for you?
Choose from pre-built surveys, live engagement tools, and interactive simulations.
With Engage tools by Polco, you can...
Build Support
Show residents real constraints decision-makers face so you can gain support.
Make Informed Decisions
Gather community data so you can develop a well-informed plan.
Be a Leader In Your Community
Get community members involved to unite residents and decision-makers, build momentum, and get things done.
Increase resident participation
Create a sustainable engagement program and to get more community members involved.
Polco solutions offer a holistic approach to participation
Build a following of verified residents on your Polco profile
Use a pre-made template or create a custom online polls about any local issue
Survey your residents in real-time for more interactive live meetings
Run a budgeting or other simulation to prioritize funding and projects
Successful local governments continually engage their communities.
Including residents in local decision-making leads to the best outcomes and builds community trust in local government. Polco specializes in engagement tools that help you connect with your residents.
Someone would come to a council meeting and would be the loudest person in the room. We would make a decision based on that. We wanted to make more data-driven decisions and hear more from our community.
Andy Conyers
Asst. City Manager of Administration, Edmond, Okla.
We asked ourselves, do we have the courage to step forward and see how we're doing? And then do we have the courage to take on this information and pique the interest of the community to do something different than we've done in the past?
Joel Young
City Clerk, Chatfield, Minn.
This is very useful. I can't tell you how many times we reflect on the community survey results to help guide our policy decisions over the next four years.
Ashley Stolzmann
Mayor, Louisville, Colo.
A lot of communities, especially small ones, have ever-growing demands and never-growing staff. It's hard to prioritize. The data helps us to evaluate those things, set priorities, and make sure we use our limited resources to get to where we need to go.
Kate Rusch
Public Information Officer, Estes Park, Colo.
Get better insights on your community while saving time, energy and money.
Get Track by Polco!