Polco Learning Lab Webinar September 16, 2020, 12:00PM Central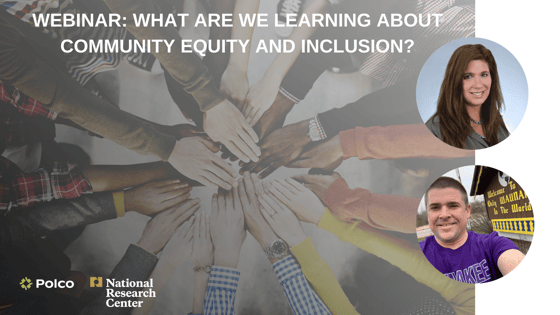 In this year of a pandemic, mass unemployment, and police violence, racial inequalities have become increasingly magnified. But what can local government leaders do to disrupt inequities? What can they do to better understand how inclusive their community is? And, how can they partner with underrepresented residents to shape policies that better serve all?
Polco created a Community Equity and Inclusion survey to assist local governments in elevating the voices of diverse community members to create more just communities.
Join Village of Waunakee's Village Administrator, Todd Schmidt, and Polco's Senior Vice President of Innovation, Michelle Kobayashi for a free webinar to learn more about how the Community Equity and Inclusion survey can help your community.
In this webinar, you will:

Understand why now is the time to gather community input
See what you can learn from data from Polco's Community Equity and Inclusion survey
Identify ways to use the results in your community
Register for this webinar now and learn how you can use Polco's Community Equity and Inclusion survey to empower engagement among underrepresented voices in your community.

Join city officials and experts from Polco to see how you can use the results from your Equity and Inclusion survey.
When: September 16th at 11 a.m MT, 12 p.m CT, 1 p.m ET
Cost: Free
Topic: What are We Learning about Community Equity and Inclusion?
Speakers:

Todd Schmidt, Village Administrator for Waunakee, Wisconsin
Michelle Kobayashi, Senior Vice President of Innovation for Polco
Can't make the date? No worries. We'll email everyone who registers a recording of the webinar with show notes.