The Polco Library gives Polco members access to professionally written and curated surveys to help local governments and organizations quickly understand the thoughts and needs of key stakeholders on a variety of topics.
Understanding the Polco Library
The Polco Library is a collection of surveys that you can pull down and publish. Calling on their 25 years of experience, National Research Center (our research team) designed these short surveys to address common focus areas (such as economic health and housing, among many others). In the library administrators can view the title and content of the survey or search by keywords for a specific topic. After selecting a relevant survey, you can click "Save to Drafts" at the bottom of the survey to save it to your profile for later use. Once saved to your profile, the survey can be used as-is or you can modify it to fit your needs before publishing.
Note: the Polco Library, in addition to many other features, is available to anyone with the Basic Polco membership. Please refer to our Premium Store to review all membership options.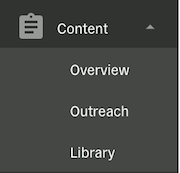 Accessing the Polco Library
To access the Polco Library, simply sign in to your administrator account and select "Content" on the left side of your dashboard. A drop-down menu will appear where you can select "Library".
From there, administrators can scroll through and preview all content within the Polco Library. Click on "View" on the bottom right of any survey to preview the content.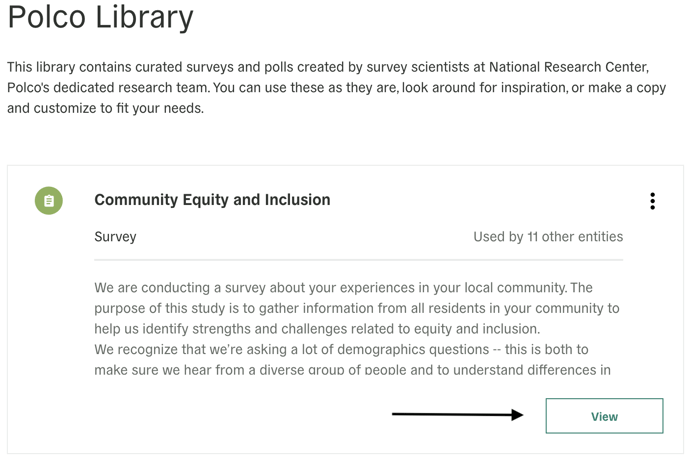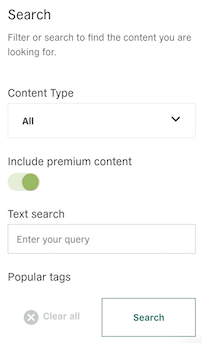 The Polco Library also has a search feature that allows you to quickly identify surveys or polls related to the issue you'd like to address. Located on the right side of the L
ibrary
, you c
an search for content based on content typ
e (
poll set or survey), whethe
r
it's prem
iu
m or not, and by key words. Click "Search."
After previewing a survey, administrators have the option to save it as a draft (scroll down to the bottom of the page and click on "Save to Drafts"). It will be added to the Content List on your profile, where you can use it as-is or edit the survey to fit your needs before publishing.