By Alex Pedersen, Chief Technology Officer, Cory Poris Plasch, Vice President of Client Success, and Heather Locke, Research Analyst
Respondent Experience
In a recent upgrade to the respondent's experience of answering questions on Polco, we have now moved the location to set up an account (entering an email and zip code) to the beginning of the survey rather than the end. This way, respondents are aware of this requirement up-front and are clear that after they enter this information (which will always be strictly confidential) their responses will be counted.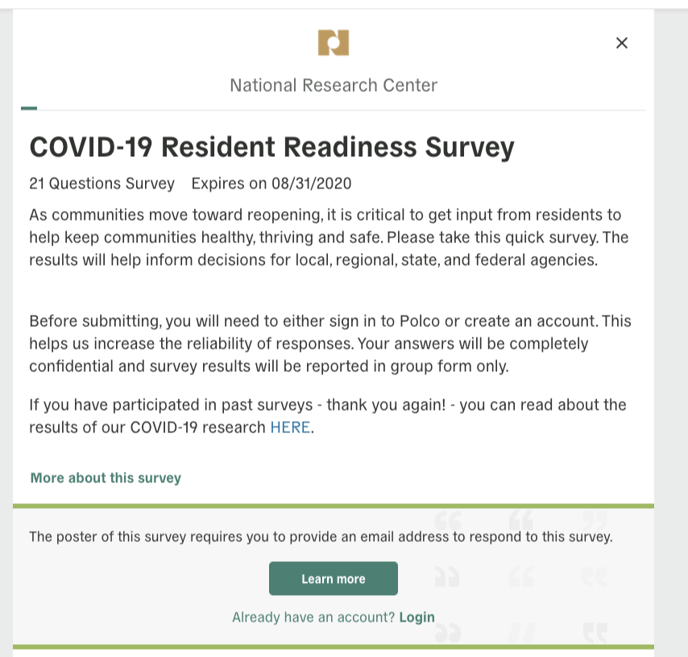 As a data-driven company, we explored the benefits of this change and agreed it was a good direction for clarity and ease of use for respondents and organizations. We're delighted to offer this upgrade in our ongoing efforts for efficiency, transparency, and a positive experience for respondents.
We are also asking for less demographic data up-front, requesting only zip code and email. While this means that new respondents won't have demographic data available right away, it lowers a barrier, leading to more responses. We will also be collecting additional data over time, particularly for race/ethnicity and other demographic fields that can be difficult to collect but important to understand when evaluating results.
If you are interested in explaining why this information is necessary to your respondents, we have created a description template for you:
"Your answers will be completely confidential and survey results will be reported in group form only. Please note that you are required to provide an email address and confirm your zip code. This allows us to contact you again for continued research efforts, but Polco will never share your personal information."
---
Coming Soon!
We have several exciting updates on the horizon, including:
Email Invitations for Surveys and Polls: If you have an email list, you'll soon be able to upload it to Polco and send an invite when you post your next survey or poll. A great added benefit - recipients will no longer need to log in or create an account to respond!
Polco Demographic Questions: We know breakdowns and crosstabs are important. This feature will allow you to choose from a list of demographic questions when creating a survey - these questions can be used as breakdowns or crosstabs in addition to any others included in your plan.
Polco Live: With social distancing guidelines still in effect for much of the country, we're working on a major update that will allow you to conduct polls at live events, even if they're on Zoom. It will be similar to polling apps you may have used at conferences, but with a unique Polco flavor that's tailored to local governments and their residents.