Using Polco to Engage Community in Bar Harbor, Maine
The gateway to Acadia National Park, Bar Harbor, Maine is a quaint town of about 5,000. The coastline Town's rustic charm and exceptional outdoor activities have long attracted artists and nature lovers. In fact, the area is home to summer cottages of elite American families such as the Vanderbilts, Rockefellers and Astors.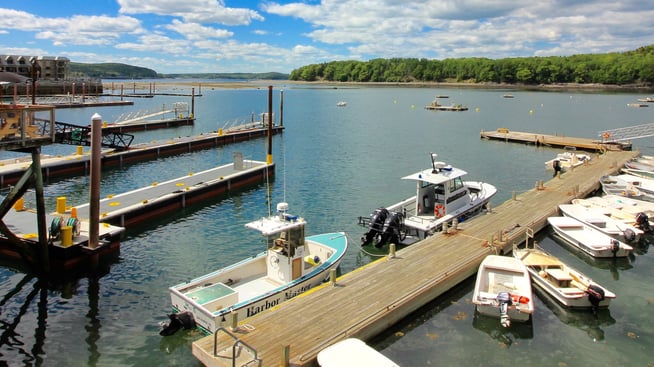 The Town strives to balance the economic benefits of tourism, while preserving Bar Harbor's small-town quality of life. Bar Harbor has long held meetings to get feedback from community members. However, audiences were in many cases not reflective of the overall community demographics.
Engaging More Residents Through Polco
The Town turned to Polco, the online engagement platform, to help make it easier for all residents to offer feedback.
"If they can't come to meetings, then we need to bring meetings to them," said Nina St. Germain, Engagement Coordinator for the Town. "Residents appreciate the opportunity to participate…when their own schedules don't allow them to get to the evening meetings."
Within three months of adopting Polco, five percent of Bar Harbor's residents were registered and using the platform. The Town uses Polco to ask about everything from short-term rentals to marijuana policy to new ferry terminals.

Increasing Resident Participation
The Town uses strategies to increase resident engagement on the platform. For example, it posts at least one new question each month, advertises Polco questions widely, and makes sure each question has no more than five or six possible responses. Now, it's common for one survey question to get two hundred to three hundred responses.
A dedicated group drafts the questions. The group works hard to anticipate hot button topics rather than only posting questions that relate to imminent decisions.
This makes many of the "questions end up more like a listening session where decision-makers get to be informed about public sentiment prior to decision time," said St. Germain.
"This clears hurdles in the public process. It streamlines how we as a government respond. It is also a great way to remind residents that certain topics have not been forgotten."
Diving Deeper into Feedback
In addition, the Town finds that Polco has helped it to look closer at resident feedback than they would be able to in a traditional Town Hall format. One such issue was the recent polling of residents on marijuana consumption.
"On the whole, the residents were in favor of marijuana," St. Germain said. "But by looking at the demographic data, we were able to do a deeper dive. We learned that those in the 30 – 50 age range were less in favor of it. Women, less so than men."
"I shared this with the council. This is the age range of parents who have children that are most at risk. In conversations, it was then learned that the primary caregivers, mostly women, were very afraid for their children. While marijuana is legal and relatively harmless in and of itself, they did not want it available in any form that might make it easier for their kids to get sidetracked."

Noticing the Efforts
In addition to gathering feedback on key community decisions, Bar Harbor also uses Polco to better understand how its community engagement efforts are working. For example, 65 percent of respondents have noticed the communication efforts being made by the town and 67 percent have found the increase in communication efforts to be helpful in reminding them about current public discussions.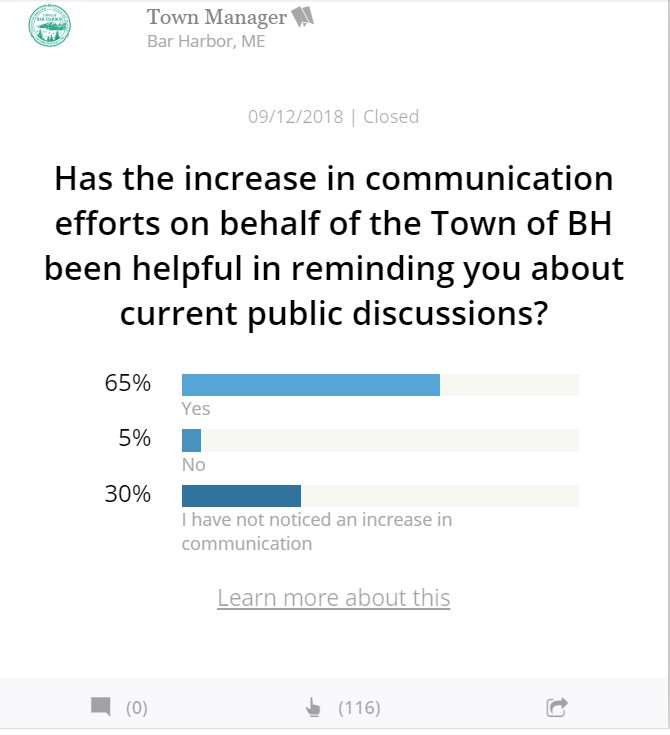 Because of Bar Harbor's online engagement efforts, it was recognized as a finalist for the Voice of the People Awards for Online Community Engagement. This award is presented by National Research Center/Polco and International City/County Management Association (ICMA). It recognizes local governments that best engage residents digitally using Polco.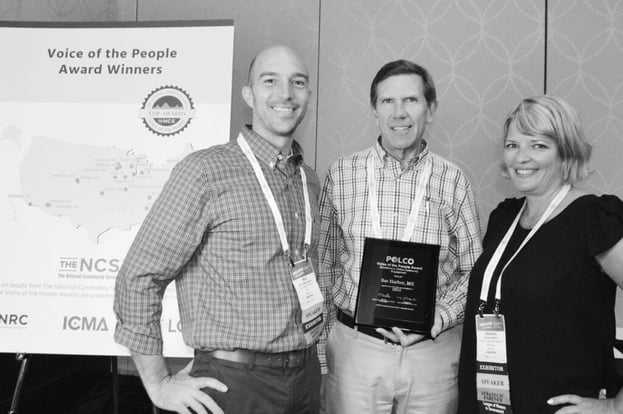 The enthusiasm the Town has seen for the platform has helped prompt the government's decision to continue using Polco for the upcoming Comprehensive Plan. Town leaders look forward to seeing more community input on Polco to focus on the area's most pressing challenges.